Tuesday, August 25th, 2009

Guest blogger:  Meg Guiseppi, CPBS, MRW, CPRW
I was commiserating recently with Jeff Lipschultz of A-List Solutions about how overwhelming the new world of executive job search can be for those facing one.
With fewer jobs at every level, when faced with a layoff or when considering a career transition, executives may find they're not in demand the way they used to be. In the past, they were probably approached as passive job seekers by recruiters who slid them into their next great gig. They can no longer rely so heavily on recruiters to place them.
So much has changed in just the past year or so. Several factors deeply impact landing  an executive job today − personal branding, the need for a strong online footprint, the rise of social media, the fact that recruiters and hiring decision makers source candidates on social networking sites such as LinkedIn, and, of course, the current state of the economy, resulting in much more competition in the job market for fewer top-level jobs.
Jeff shared his advice on connecting and working with recruiters in a Q&A with me on my Executive Resume Branding Blog, "Working with Executive Recruiters."
Senior-level executives who come to me for help are all at sea when it comes to understanding what they need to do first, what they shouldn't do, and that they need to build a different kind of job search strategy.
Here are six tactics that will help you get a handle on and excel in today's new world of executive job search:
1. Personal branding to differentiate and strategically position you.
In brief, personal branding links your passions, key personal attributes, and strengths with your value proposition, in a crystal clear message that differentiates your unique promise of value and resonates with your target audience.
One of the many powerful things about branding is that it generates chemistry for you and helps hiring decision makers connect you with and see you in the jobs they're trying to fill. Branding shows them how you make things happen.
2. Portfolio of career marketing communications for your personal brand toolkit.
An executive resume, career biography, covering letter or email message, and reference dossier are must-haves.
But you may need other documents such as a Leadership Initiatives Profile, Achievement Summary, One-page Networking Resume, Performance Milestones, Product Launch Chronology, Project Management Highlights, Technology Skills, Training & Certifications, Speaking Presentations, Publications, Patents, Commitment to Community Service, etc. Name the document to fit the content and target.
Get ready to transform these documents into your online identity-building strategy.
3. LinkedIn profile and strategy.
Did you know that recruiters and hiring decision makers routinely search LinkedIn for talent and even have special applications designed for that purpose?
If you do nothing else online, you have to have a great LinkedIn profile. But don't stop there. Get busy making connections, joining clubs, and leveraging all this site boasting over 45 million professional members has to offer.
Go back to your executive resume and career biography and copy relevant content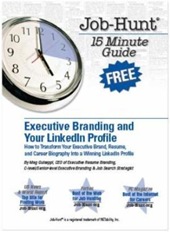 into the appropriate sections to create your LinkedIn profile. Download a copy of my FREE E-book, "Executive Branding and Your LinkedIn Profile: How to Transform Your Executive Brand, Resume, and Career Biography into a Winning LinkedIn Profile." The book takes you through building a branded profile, step by step.
Optimize your profile and make it searchable using the relevant key word phrases hiring decision makers will be looking for in candidates like you.
Once your profile is together, be sure to include a link to it in your email signature and at the top of your resume, along with contact information.
4. Tap into the hidden job market with targeted industry and company research.
Track down warm leads at companies of interest to you, identify the challenges they're facing, learn about the company culture, and pinpoint how you can help.
Circumvent the gatekeepers by identifying and connecting directly with top decision makers through LinkedIn, Twitter, Facebook, and other online social networks.
Your research also arms you with market intelligence, serves as your due diligence for companies, and positions you as an informed, engaged candidate in interviews.
5. Face-to-Face Networking Strategy
Along with online networking, in-person networking is still one of the best ways to land a job. Many executives neglect their networks when they're not job seeking − a serious mistake. You'll need to revive your connections and once again start practicing "give to get" networking.
Leverage the Internet employment portal Job-Hunt.org to connect or re-connect through professional associations & societies, company, military & government alumni groups, and networking & job search support groups.
6. Online personal brand-building and online brand identity management.
What will recruiters and hiring decision makers uncover when they Google "your name"? Checking out candidates' online presence before even considering or contacting them is pretty much standard practice now.
If they find nothing about you online, you probably don't exist to them. Conversely, if they find information that discredits you, you'll probably be out of the running. You'll need to run damage control and start building up accurate, on-brand results to push down the negative ones.
Here are a few places to build a presence online and increase the number of positive search results associated with you:
Create a VisualCV and Google Profile.
Blog in some way − your own blog and/or guest blog and comment on other relevant blogs.
Create key word-rich profiles on Twitter and Facebook and get busy leveraging all they have to offer.
Write book reviews on Amazon and other online book sellers.
Publish articles and/or white papers online.
For more strategies, see my series of blog posts, Top 10 Best of C-Level Executive Job Search Strategies
© Copyright Meg Guiseppi, 2009. All rights reserved. Used with permission.
A C-level / Senior-level Executive Branding & Job Search Strategist and CEO of Executive Resume Branding, Meg Guiseppi loves collaborating with forward-focused corporate leaders to differentiate their unique value proposition, demystify today's world of executive job search, and strategically position them for success. A 20-year careers industry veteran, Meg has earned multiple certifications ? Reach Certified Personal Branding Strategist, Master Resume Writer, Certified VisualCV Creator, and Certified Professional Resume Writer.
Meg works one-on-one with clients to define their personal brand, craft interview-generating documents ? elite resumes, career biographies, cover letters, and collateral documents. She transforms these documents into a strong online footprint with LinkedIn, Twitter and other social networking profile creation, VisualCV creation, and other online identity-building strategies.
For a wealth of insider tips on personal branding and executive job search, visit her Executive Resume Branding Blog/Website. View Meg's LinkedIn profile. Follow Meg on Twitter.